Workday is built on a single code base, which means all customers start with exactly the same version.
This ensures that all Workday's clients are up-to-date, benefit from fixes and upgrades immediately, and see the same core design.
This approach also simplifies support and makes it much easier for Workday to develop and deploy new functionality consistently.
Workday releases regular updates and enhancements to all customers at once, and there is a defined process to review, test and deploy these changes that is the responsibility of the customer.
During your Workday implementation, you will have been advised to stick to 'out of the box' configuration as much as possible.
This undoubtedly makes deployment faster and easier, but it means your business may have had to compromise the ways you do things to fit within the standard Workday processes.
And compromises lead to gaps in functionality that impact Workday adoption.
Another consequence of rapid deployment can be a lack of planning for the post-Go Live management of Workday. This includes the direct support team and also the system management – the process to plan, configure, test and deploy changes and updates to the live production tenant.
Workday requires you to continuously adapt your business to take advantage of the regular enhancements and new features.
You cannot stand still.
You need a solid, reliable design base to build on and effective processes to plan, build, test and deploy new functionality while providing support to your business for day-to-day activities.
Issues with design can lead to increased support calls, poor user experience and poor Workday adoption, all of which can derail your ability to adopt new changes.
It becomes a vicious circle that needs to be broken.
How can you identify whether your Workday deployment and support structures have been compromised?
Conduct a high-level review of your Workday deployment and support structure using our free checklist.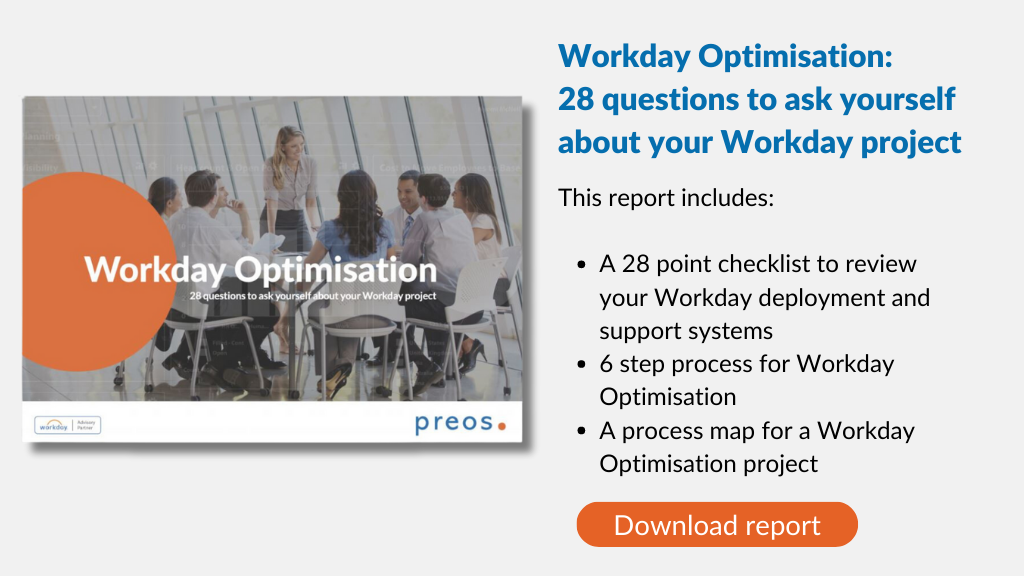 The checklist examines the challenges you may encounter post-implementation – particularly if the process has been rushed.
Use it to uncover the issues that may explain why Workday is not meeting all your expectations. It will also help you to start your action plan to close the gaps.
We've also included a six-step guide for running a Workday Optimisation programme.
Download Workday Optimisation: 28 questions to ask yourself about your Workday project here.
Contact us to find out how Preos can help.
Image (c) Shutterstock | TierneyMJ