Mergers and Acquisitions (M&A) can open a new world of opportunities within the HR and HRIS space. They also raise many questions and considerations. With so much at stake it is critical to navigate this landscape with care to ensure correct decisions are made, allowing the merged organisation to realise ts commercial and people objectives.
To make sense of the complex business and HRIS landscape during M&A, you must view them through different lenses to get a comprehensive understanding of your new organisation and guide you in making sound decisions.
We've identified four lenses that we believe are essential for success: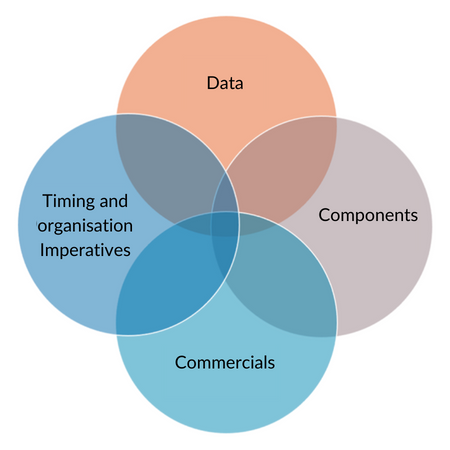 Timing and organisation imperatives
Understanding the business drivers and timelines of the M&A activity is a central pillar of the tactical and strategic approach taken within the HRIS space.
As you consider how HRIS is managed, it's essential to ask the right questions at the outset, regardless of whether an acquisition has just been announced or when evaluating any M&A pipeline:
What are the key drivers of the acquisition, and how does this align with the business deliverables of the HRIS ecosystem in the combined organisation?
Does the combined organisation aspire to harmonise elements of the People experience within a specific timeline?
Are there any regulatory or audit considerations that you need to factor into your management plan to ensure that your organisation is compliant and that any risks are identified and addressed?
What are the immediate reporting requirements for the combined organisation?
Will managers immediately have teams spanning the two legacy businesses, meaning you must ensure that a system is in place to support the new structure?
Is a new Organisation Design required, and if so, when should it be implemented?
Ultimately, the answers to these questions will be critical to informing the approach you take in managing the combined HRIS estate. Whether you need to temper your aspirations or rapidly implement bridging technologies such as shared reporting, your HRIS roadmap and vision must be aligned with the organisation's imperatives.
This will provide clarity and ease requests for funding while ensuring that your efforts are successful.
Data
A clear insight into the data landscape of the combined HRIS estate will guide decisions and establish direction.
From a technical perspective, when it comes to M&A activity, managing data is a critical consideration. If organisation X has 1k workers and organisation Y has 10k workers, consolidating data will likely require the movement of the smaller workforce. However, there are nuances to consider, such as:
Age of environments
The age of the HRIS landscapes used by both companies should be considered. This will help determine if legacy technology and processes are being used. Additionally, the age of the systems will indicate the amount of historical data that has been accumulated.
Posture of the environments
Consider the posture of the environments in which data is hosted. Whether hosted on-premise or in the cloud, the physical location of the data and the level of security applied to the environment are all key considerations in your analysis of the HRIS footprint. It's also important to examine the quality of the data configuration.
Governance and Legislation
Understanding the data legislation relevant to the geographies involved in your M&A will also guide your thinking around the HRIS landscape.
It will help you determine if any locations require special consideration, such as the local hosting of personal data. Additionally, if your organisation is regulated, consider the internal governance frameworks and regulatory supervision.
By carefully considering all these factors, you can effectively manage the data consolidation process during M&A activity.
Components
It's important to define and evaluate the various components that form the combined HRIS estate.
As organisations come together, it's common to find that the combined HRIS estate contains duplicative solutions. That's why it's key to ensure a thorough catalogue of systems and capabilities to gain a clear understanding of the landscape.
Once you have a full catalogue, you can align your technology with the direction your people function will take. Determine if there's a desire to move towards a single core HRIS solution or does the function wish to bring in best-of-breed technologies. With a solid understanding of the components, you can confidently make informed decisions to set up your M&A for success.
Commercials
Analyse the commercial agreements with suppliers, and factor in the associated costs and contract duration.
The cost of the platforms involved in your M&A will be a major factor. Depending on when contracts were signed with vendors, and the scale of those contracts, the cost can vary widely. Procurement and legal teams will need to be involved to understand and define the short and long-term strategies.
Crafting a winning strategy for HRIS mergers and acquisitions
When it comes to M&A within the HRIS space, there's no single correct approach or one-size-fits-all strategy.
There are many factors to consider, such as the scope and complexity of the project, cultures and values, and technical capabilities.
Remember many M&A scenarios are governed by a Transitional Services Agreement (TSA) which sets deadlines on when system separation must take place, with heavy penalties associated with missing them. Those responsible for systems must be laser-focused on beating deadlines, or at worst meeting them, as paying penalties will result in less funding available for future optimisation of systems.
However, by applying this framework and considering the various lenses discussed here, you can begin to define a clear vision and tactical approach to meet your goals and navigate the HRIS considerations for your M&A with confidence to achieve your desired outcomes.
Whether you're in the planning stages of an M&A or already knee-deep in the integration process, our team is here to help you achieve your goals. Contact Preos today to see how we can support you to ensure a successful outcome.
---
Image (c) fauxels from Pixabay