Graduating from university and entering the job market can be a daunting experience. It's a big step forward and an opportunity to find the role that fits you best – professionally and personally.
After graduating from Northumbria University in 2022, where I earned my BSc in Information Technology Management for Business, I joined Preos as a Graduate Project Manager.
Since joining I have been promoted from Graduate to Project Analyst and I'd like to share my journey so far.
Hearing from the Preos team at an online careers event left an impression on me. From all the organisations present, Preos caught my interest because of the team's enthusiasm as they spoke about Preos values and the many opportunities available.
Whether your interests are project management or consultancy, it was clear that Preos not only provides opportunities for career growth but encourages you to take ownership and share ideas. It perfectly aligned with my aspirations and felt like the perfect place for a graduate like me to start my career.
Especially appealing was the flexibility of roles at Preos. Here, I wasn't restricted to a single path but encouraged to explore and get exposure to different roles and responsibilities.
Preos specialises in
Workday.
Although I had no prior exposure to Workday, the team assured me it was not a roadblock. They emphasised that if you are willing to learn, the opportunities for growth and development are endless. Their confidence in my ability to learn affirmed my decision to join Preos.
I joined as a Graduate Project Manager in the delivery team in 2022. My responsibilities were diverse including developing project plans, monitoring projects, budgeting, risk assessment, providing operational support, and maintaining good client relationships.
Every day here at Preos is different with a diverse range of different clients and projects, making the work environment perfect for a graduate wanting to develop more project management skills.
As Preos is a smaller consultancy, it is easy to collaborate and get support from everyone to support your professional growth. I particularly enjoyed working with the Project Managers to learn their different approaches, use of tools and management styles.
I like the flexibility of the hybrid work structure at Preos. We have the option to work from home or our offices in Newcastle or London. The Newcastle office is in a good spot close to the quayside and city centre of Newcastle Upon Tyne and the London office is centrally located.
One of my favourite things about working here is the quarterly company meet-ups. It is a great time to catch up with everyone in person, collaborate and learn together.
We have two days of workshops and brainstorming during the day and then in the afternoon we usually do an activity together and head out for dinner and drinks in the evening. If you're a foodie like me, these are something to look forward to. The December meeting was fun at Lara Croft's Tomb Raider experience and then out for food at Shaka Zulu in Camden.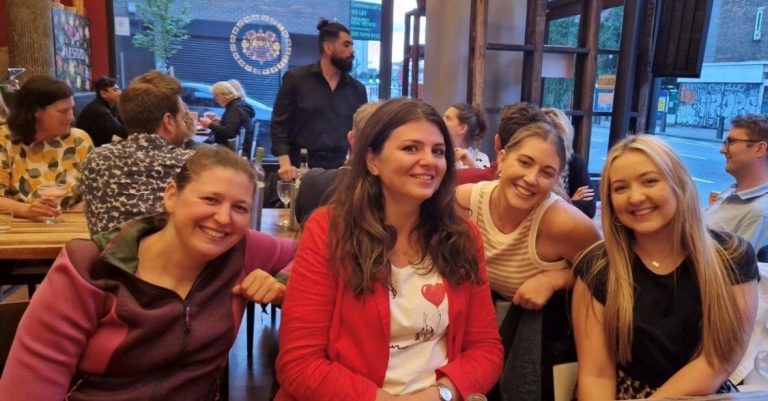 Dinner with the team after a Quarterly Company Meeting, June 2023
Starting a new role in any company can be daunting as a graduate. I appreciated meeting the whole team in person within the first few weeks of starting my role. Everyone was so friendly and was great at welcoming me and the other graduates into the organisation.
During my time in the graduate scheme, I have been given many opportunities for training and support. The graduates all completed Workday HCM Fundamentals training which included 62 hours of training on HCM Fundamentals, Business Process Fundamentals and Report Writer to grow my Workday knowledge. I also worked closely with consultants and shadowed Project Managers throughout different projects at Preos.
Team meeting at Newcastle United FC, September 2023
Company wide dinner, June 2023
Tomb Raider Live Experience, December 2022
I have since been promoted from a Graduate to a Project Analyst. Today, I manage projects independently, and it's a testament to the incredible growth and learning opportunities that Preos provides.
If you're a recent graduate considering a similar career path, consider joining a smaller company like Preos instead of one of the big 4. Having a big name on your CV might sound tempting, but a boutique consultancy like Preos offers direct interaction with clients, more involvement, and countless opportunities to make an impact. All of these contribute to your personal and professional growth, paving a great path for your future career. At Preos, if there is an area I want to learn more about, I can get project exposure or do more training.
And here's my top tip: say yes to every opportunity that comes your way! Push yourself out of your comfort zone because that's the only way you grow. If you're interested in exploring different departments, get as much exposure as possible to different workstreams and technologies. You might surprise yourself at how capable you are.
Preos is a modern, sociable, and fast-paced company, perfect for a graduate starting their career. The organisation is full of colleagues with a wealth of expertise who genuinely want to see each other succeed. I have felt heard, and I genuinely believe Preos want its graduates to grow and reach their full capabilities.
My time at Preos has been an incredible journey, and I can't wait to see where it takes me next.
learn more